Alcohol Survey-Peachtree Corners



Alcohol Survey-




Peachtree Corners and Gwinnett County
An Alcohol Survey-Peachtree Corners is a first-step in applying for an Alcoholic Beverage License. It is also important to know your distance requirements by knowing the Code of Ordinances for Peachtree Corners before committing to a lease or purchase.
Atlanta Engineering Services can advise you of the distance requirements during your due diligence period. This article, Alcohol Survey-Peachtree Corners, will assist you in the initial process.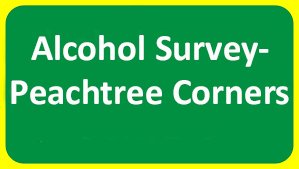 We recommend reading and studying Chapter 6 of the Code of the City of Peachtree Corners, Georgia, for a complete understanding of all the requirements. This article will address the distance requirements which the establishment selling alcohol products must be from schools and churches.
Each city and county has different distance requirements and how they specify the way distances are measured. Be sure to check the Code of Ordinance for Peachtree Corners before you apply for a liquor license. 
Distance Requirements for
Alcohol Survey-Peachtree Corners
All persons are prohibited from selling alcoholic beverages in or within 100 yards of a church building or in or within 200 yards of any school building, educational building, school grounds, or college campus.
Peachtree Corners defines the term "school building," "school," "school grounds" or "educational building" as only to state, county, city, or church school buildings and to such buildings at such other schools in which are taught subjects commonly taught in the common schools, universities, and colleges of this state and which are public schools or private schools as defined in O.C.G.A. § 20-2-690(b).
The terms "school building" and "educational building" include only those structures in which educational instructions are offered. The term "school grounds" shall apply only to the parcel or parcels of land on which a school, school building, or educational building is located.
The term "church building," as used in this section, shall mean the main structure used by any religious organization for purposes of worship.
The requirements for minimum distance from a church building, college, or university in a shopping center, as defined by the latest Illustrated Book of Development Definitions (copyright 2004 by Rutgers), shall not apply to any new license for retail package or retail consumption.
How Distances are Measured
Distances shall be measured by the most direct route of travel on the ground starting from the main entrance of the establishment from which alcoholic beverages are sold or offered for sale and running in a straight line, regardless of obstructions, to the nearest public sidewalk, walkway, street, road, or highway by the nearest route.
Then along such public sidewalk, walkway, street, road, or highway by the nearest route to the main entrance of the church building, or to the front door of the nearest school building or college campus building.
Alcohol Survey-Peachtree Corners surveys are performed by a Professional Land Surveyor which determines the most direct route of travel to the facility.
Future Construction of Churches and Schools
Any future construction of churches and schools within the above-described distance requirements do not prohibit the continuance of an existing license or the renewal thereof or issuance of a new license to any subsequent owner of such property. See the City Ordinance for complete details.
See Alcohol Survey-Peachtree Corners, GA. 
Other Areas Served
Cobb County including Marietta, Smyrna, Powder Springs, Austell, Kennesaw and Acworth.
Call for an estimate and to schedule your Alcohol Survey.
770-316-1720
ela@atlantaeng.com
Schedule Your Alcohol Survey. 
Call Elvin Aycock at 770-316-1720.
Expedited Services Available.
Additional Alcohol Survey Articles. . .
Other Services by Atlanta Engineering Services
Alcohol License in the City of Johns Creek
What is an Alcohol Survey?
Alcohol Survey Requirements in Cobb County
What is included in an Alcohol License Survey?
Beer and Wine Surveys are performed by a Professional Surveyor
Beverage License Surveys must be a Certified Survey
Liquor License Survey and Surveyor's Contact Information
Alcohol Survey Requirements for Marietta, Georgia
Gwinnett County Alcoholic Beverage Distance Requirements