Alcohol Survey-Gwinnett County

Alcohol Survey-Gwinnett County
Alcohol Survey-Gwinnett County has specific distance requirements which must be met before an Alcoholic Beverage License will be issued. These guidelines are found in the Code of Ordinances Gwinnett County, Georgia – Chapter 6, Alcoholic Beverages. Go to their website and read and understand the distance requirements before committing to a location for your restaurant or bar.
Read and understand the Code of Ordinances for Gwinnett County. This article is a summary and a small part of the ordinance. It does not contain all the information you should know in applying for an alcoholic beverage license.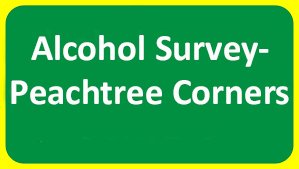 Distance Requirements
The distance requirements are found in Section 6-9 of Chapter 6 of the Code of Ordinances. They are as follows:
(a)  No person may sell or offer to sell:
(1) Any distilled spirits in or within 100 yards of a church building or within 200 yards of any school building, educational building, school grounds or college campus.
(2) Any wine or malt beverages within 100 yards of any school building, school grounds, or college campus.
School distance requirements include daycares who offer kindergarten programs.
Alcohol Survey-Gwinnett County
Definition of School and School Buildings

The Gwinnett County code says, "As used in this section, the term "school building," "school," "school grounds" or "educational building" shall apply only to state, county, city, or church school buildings and to such buildings at such other schools in which are taught subjects commonly taught in the common schools, universities and colleges of this state and which are public schools or private schools as defined in O.C.G.A. § 20-2-690(b)."
Distances from Church Buildings
Gwinnett County defines a church building as: "The term "church building" as used in this section shall mean the main structure used primarily by any religious organization for purposes of worship.
"The requirements for minimum distance from a church building, college or university located in a shopping center as defined by the latest Illustrated Book of Development Definitions (copyright 2004 by Rutgers) shall not apply to any new license for retail package or retail consumption."
How Distances are Measured

 
for Alcohol Survey-Gwinnett County
The distance shall be measured by the most direct route of travel on the ground and shall be measured in the following manner:
(1)  From the main entrance of the establishment from which alcoholic beverages are sold or offered for sale;
(2)  In a straight line, regardless of obstructions, to the nearest public sidewalk, walkway, street, road or highway by the nearest route;
(3)  Along such public sidewalk, walkway, street, road or highway by the nearest route;
(4)  To the main entrance of the church building, or to the nearest portion of the school grounds or college campus.
If a school or church is permitted by the County and the school or church is constructed, the establishment from which alcoholic beverages are sold will not be denied continued operation under the existing license. It will not be denied any renewal of such a license.
Local Regulations in Gwinnett County
Alcohol Survey-Gwinnett County guidelines are established to show that the applicant is complying or not complying with the County and State laws and regulations. The intent is to regulate the locations in which businesses such as restaurants, bars, package stores, and clubs can sell alcoholic beverages and remain a specified distance from schools and churches.
Alcohol License Application
Click on this link to the Application for Alcohol License for Gwinnett County.
Additional Alcohol Survey Information. . .
Other Services by Atlanta Engineering Services
Alcohol License in the City of Johns Creek
What is an Alcohol Survey?
Alcohol Survey Requirements in Cobb County
What is included in an Alcohol License Survey?
Beer and Wine Surveys are performed by a Professional Surveyor
Beverage License Surveys must be a Certified Survey
Liquor License Survey and Surveyor's Contact Information