Civil Engineering: Erosion, Sediment and Pollution Control in Georgia
Land disturbing activity such as those involved in clearing, dredging, grading, excavating, transporting, and filling can result in soil erosion if not properly controlled by the use of Best Management Practices (BMP's).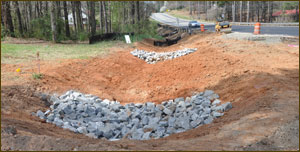 These types of activities can result in costly damage to property and the habitats of fish and other wildlife by contaminating state waters.
Georgia Erosion and Sediment Control Manual
Many local jurisdictions in Georgia have adopted the Georgia Erosion and Sediment Control Manual (The Green Book). The Green Book provides regulations for the control of erosion and siltation runoff and methods to prevent siltation from reaching streams and creeks. 
A successful erosion control plan takes into account buffers, state waters and other downstream properties that might be affected by the development of your property. It is critical that the plan is designed to implement BMP's specifically for your site. Failure to do so could result in loss of life, property damage, fines and other legal actions. 
Atlanta Engineering Services
Atlanta Engineering Services has worked with these guidelines since they were promulgated by the state and adopted by the cities and counties.
A thorough understanding of these guidelines help us to advise clients of the ways these laws affect their property and help us guide them in the most successful plan for development of their property.
---
Find out with a simple phone call how we can assit your erosion situation before  it is out of control. 
---
Additional Stormwater Drainage Information:

Find a Drainage Specialist for consultation
Yard Drainage Problems Devalues Property
Simple Solutions to Residential Drainage Problems
Learn the Benefits of Stormwater Drainage Swales
Solving Wet, Soggy Yard Problems
Common Drainage Problems of Homeowners
Preventing Crawl Space Drainage Issues
Do I have a Groundwater Spring on my Property?
Stormwater Damage from the Property Above
Stormwater Utilities and Detention Ponds
Forensic Hydrologist Evaluates Stormwater Runoff
Hydrology Expert Contact Information
Additional Services by Atlanta Engineering Services
---
---