Free Hydroplaning Article 
Featured in Collision Magazine
by Elvin Aycock, PE, PH, PLS, ACTAR
Atlanta Engineering Services would like to give you a free electronic copy of our most recent article featured in Collision Magazine.
It is entitled "Hydroplaning: The Effect of Water on the Roadway" and was written by the President of Atlanta Engineering Services, Elvin Aycock, PE, PH, PLS, ACTAR.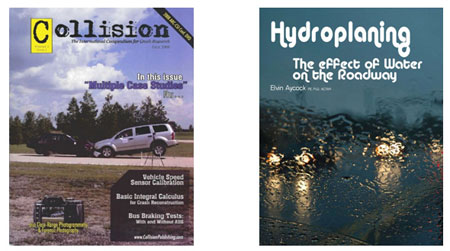 What this article talks about:
What is hydroplaning?
What conditions cause vehicles to hydroplane?
How do roadway design defects contribute to hydroplaning?
Includes a case study of a real hydroplaning accident we investigated. We'd like to encourage you to share these articles with your friends and colleagues.
---
Further Reading About Hydroplaning
Hydroplaning caused by roadway defects
Qualifications of a good hydroplaning expert
Hydroplaning article written by Elvin Aycock for the American Institute of Hydrology.
Home Page - Atlanta Engineering Services
Ruts cause hydroplaning where the asphalt and the subgrade has failed.
Hydroplaning on roadways while transiting from superelevation to normal crown
Pavement drainage can be a problem in vertical curve sags and in transitions from superelevations to tangent sections.
More pavement drainage problems occur when the centerline crown is destroyed and superelevation transitions hold water.