Vehicle Inspection Analysis
Vehicle Inspection and Analysis
Vehicle inspections determine how and why the accident happened. 
A few of the most common reasons our clients request a vehicle inspection and analysis are to determine: 
the speed of the vehicles
black box downloads, and ECM downloads
the amount of force applied from one vehicle to the other causing bodily injury
how the vehicles came together at impact
if contact was made between two vehicles
if a mechanical defect or maintenance issue contributed to the cause of the accident
if a turn signal, headlight, or brake light was on / off
Vehicle Speed & Force from Crush Damage
When a collision occurs, there is often crush damage and paint transfer due to contact being made between the vehicles. The speed and force applied to a vehicle can be determined by examining, measuring and analyzing a vehicle's crush damage. The National Highway Traffic Safety Administration (NHTSA) crash reconstruction program performs crash tests to get vehicle specific stiffness coefficients.
Stiffness coefficients are determined for the front, side and rear of the vehicle. These stiffness coefficients are a measure of the vehicle's ability to resist deformation.
Reconstructionist make measurements to determine the depth of crush. Using the depth of crush and the stiffness coefficients, the delta-V (change in velocity) and the force applied from one vehicle to another can be calculated. 
Vehicle Black Box Downloads
Most modern vehicles today have event data recorders that detect a sudden change in velocity in order to determine when to deploy a vehicle's air bags.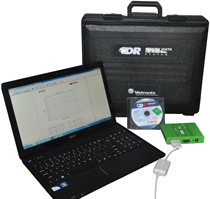 These event data recorders are commonly called the black box in non-commercial vehicles. 
The black box records data for a few seconds prior to the crash. This time interval depends on the year, make and model of the vehicle but is generally about a 5 second glimpse prior to the accident. Since a crash usually occurs within only a few split seconds, this provides a good snapshot of data from the crash event. 
The black box records a wide range of information depending on the year, make and model of the vehicle. Information such as the speed of the vehicle, acceleration, percent throttle, braking input, seat belt usage, air bag deployment, and other relevant information can often be retrieved.
Electronic Control Module (ECM) Downloads
The Electronic Control Module (ECM) is similar to that of the black box except that it is for commercial trucks. It records similar information but also has diagnostic information that can be used to diagnose mechanical problems.
Vehicle Types
Atlanta Engineering Services
Our forensic engineers and accident reconstructionists perform vehicle inspections and analysis for a wide range of vehicle types, persons and animals. Some of the most common are: 
Non-Commercial Vehicles

Bicycles
Cars (Coupes, Convertibles, Sedans, Wagons, etc.)
Motorcycles, ATV's, Snowmobiles, etc.
Pick-ups
RV's
Sport Utility Vehicles & Crossovers
Trailers
Vans

Commercial Vehicles

Tractor Trailers (Box, Curtain sider, Flatbed, Lowboy, Reefer, Tanker, etc.)
Ambulances
Boom Lifts (i.e. Cherry Pickers)
Bus
Fire Trucks
Trains
Vehicle Collisions
Examinations of vehicles involved in an accident can provide much information about how the accident took place and whether there was contact made between vehicles.
Using the evidence gathered at the scene of the accident and vehicle evidence (i.e. crush damage and paint transfer), the engineer compares the location of damage, the width & height of damage, the extent of damage, paint color of the vehicles, etc. to determine if there was contact made between the vehicles.
Once contact between the vehicles is confirmed, information from the scene, witnesses, police report, etc. are utilized to put the pieces together on how the accident took place. 
Vehicle Defects & Maintenance Issues
Our engineers can determine if a mechanical defect or maintenance issue may have contributed to the cause of an accident. It is important to understand that it is normal for parts to get damaged in an accident because external vehicular forces are acting upon those parts causing them to break. This differs from a part that is defective. 
Defective parts fail for reasons such as poor quality materials used, shoddy workmanship, poor design, and so forth. Maintenance issues can also cause parts or systems of parts to fail. We must take much care when maintaining a vehicle to ensure that it does not endanger one's safety. 
Headlight Hot ShockTurn Signal, Headlight, or Brake Light On / Off
Examine turn signals, headlights and brake lights to determine whether they were on or off during the car crash.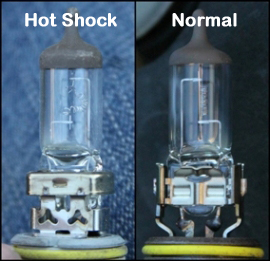 The filaments within the light bulb get extremely hot when on and are cold when off.
Since the filament is very thin, significant impacts to a vehicle can often cause these filaments to deform greatly and get tangled up.
This phenomenon is called hot shock.
If a great enough impact occurs and the filament is cold, a phenomenon known as cold shock can occur. This looks significantly different in that the filament is usually the same shape as an intact filament but broken. No significant deformation or tangling occurs. We must take other considerations into account when analyzing these bulbs, but these are the most basic two situations. 
Collecting & Documenting Evidence
We collect evidence throughout the vehicle inspection and thoroughly documented by taking photographs, video, and measurements. Then make detailed measurements for a variety of things depending on the nature of the accident. 
Generally, the most frequently performed measurements are taken for crush damage in order to determine the depth of crush so that the speed of a vehicle can be determined or the force acting from one vehicle to another can be determined. 
In tractor trailer accidents, it is very important to perform measurements on the air brake system for proper calibration. Proper calibration ensures minimal braking distances. In accidents involving heavy rain--where there is potential for hydroplaning--the tire pressure and tire tread depth is measured. This is needed for hydroplaning calculations. 
When defective parts are a concern, parts may be photographed and/or removed for testing by a testing lab.
---
Related Information about Traffic Accident Reconstruction

---