Scene Mapping
Atlanta Engineering Services, Inc. offers scene mapping and land surveying services to document and gather evidence at the scene of an accident. Scene mapping is the process of taking measurements, collecting data and illustrating evidence on a scaled drawing of the roadway. Drafting is performed to prepare the drawings using Computer Aided Design (CAD) programs such as AutoCAD.
Accident scene diagrams provide the engineer with an overall view of where evidence is located in relationship to the roadway in order to reconstruct the accident. In accident reconstruction, the following must occur with regard to matching the simulated path of vehicles with scene evidence:
the simulated path of a vehicle must match the skid marks on the roadway
the vehicles must come together at the point(s) of impact and account for all of the vehicle damage
the vehicles must stop at its point of residential scene evidence specific to the accident must be taken into account
The scope of scene mapping depends greatly on the type of accident that is being mapped, whether or not there are any roadway defects, roadway design flaws and roadway maintenance issues.
Hydroplaning Accidents
Hydroplaning accidents are one example in which these situations come into play. The geometry of the roadway is of particular concern. The roadway can be surveyed and elevation data can be collected to prepare a topographic survey showing the slope of the roadway, drainage patterns, and existing stormwater systems.
The engineer analyzes the scene map to determine whether or not hydroplaning contributed to the cause of the accident.
Scene maps are also used to create surface models for 3-D Accident Simulation Videos.
Creating simulations is an iterative process in which multiple simulations are ran until the simulated path of vehicles corresponds with scene evidence, vehicle crush damage and other evidence. Using a site specific roadway environment in a simulation is critical in creating an accurate simulation, making scene maps ever so important.
Below is a sample scene map that was put together for a two car accident where a 2009 Honda Accord failed to yield the right-of-way when making a left turn.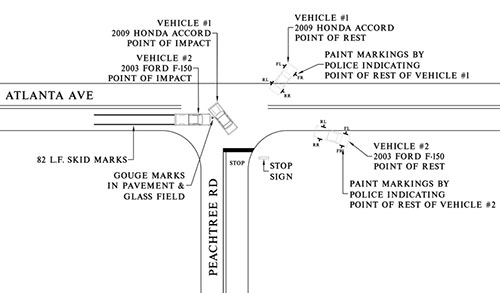 ---
Related Information about Traffic Accident Reconstruction

---