Non-Commercial Trucks and Other Vehicles
Non-commercial vehicle accidents can be caused by a number of contributing factors. The professional engineers at Atlanta Engineering Services are skilled at investigating non-commercial traffic accidents and can determine the cause of the accident.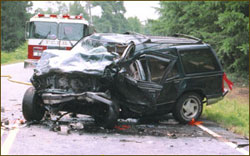 We have experience investigating all types of accidents involving: pedestrians, animals, bicycles, motorcycles, sedans, sport utility vehicles (SUV), pickup trucks, trailers and vans. 
Black Box Downloads
Vehicle Defects
Hydroplaning Accidents
First Response
---
Related Information about Traffic Accident Reconstruction

---